Jacob Jolliff is renowned for his mandolin playing, from bluegrass to jazz to celtic. He has been a part of two legendary groups, Joy Kills Sorrows and the Yonder Mountain String Band, before starting his current group under his own name. The Hult Center is happy to have Jacob Jolliff performing for FREE at this year's Summer Series, July 20th at 5:30 PM.
We spoke with Jacob about how he crafted his signature sound and his musical journey.
---
Hult Center: How did you first become interested in playing mandolin, why did you ultimately decide that the mandolin was the one?
Jacob Jolliff: My dad started me on the mandolin when I was seven years old. For the first six months or so, I couldn't care less about it, but then, basically overnight, something clicked, and I went from practicing the required 10 minutes a day, to several hours each day…And not much has changed since!
Hult Center: How did you develop your signature sound and musical approach?
Jacob: I wouldn't say I've ever actively tried to develop my "own sound." In my experience, if you focus on absorbing the influence of the music you like, and focus on developing your craft, your own unique voice will emerge from that….
Hult Center: Can you share any memorable experiences that significantly influenced you on your musical journey?
Jacob: Some of my earliest and fondest memories to do with playing music involve driving around playing gigs with my father, Bill Jolliff. As a kid, getting to travel around with your dad and play gigs felt pretty "rock 'n roll."
Also, I was lucky to get to meet a lot of my mandolin heroes when I was at a formative age–musicians such as David Grisman, Chris Thile, Ronnie McCoury, Sam Bush. All of these are great people, and took the time to really encourage me as a young player.
Hult Center: What are the many challenges you faced?
Jacob: I think it's always a challenge for musicians and artists to make a living. You have to stay really focused. Additionally, continuing to progress on your instrument is always a battle. That said, I've been really lucky to catch some breaks and find myself playing with some of the most amazing musicians in the world.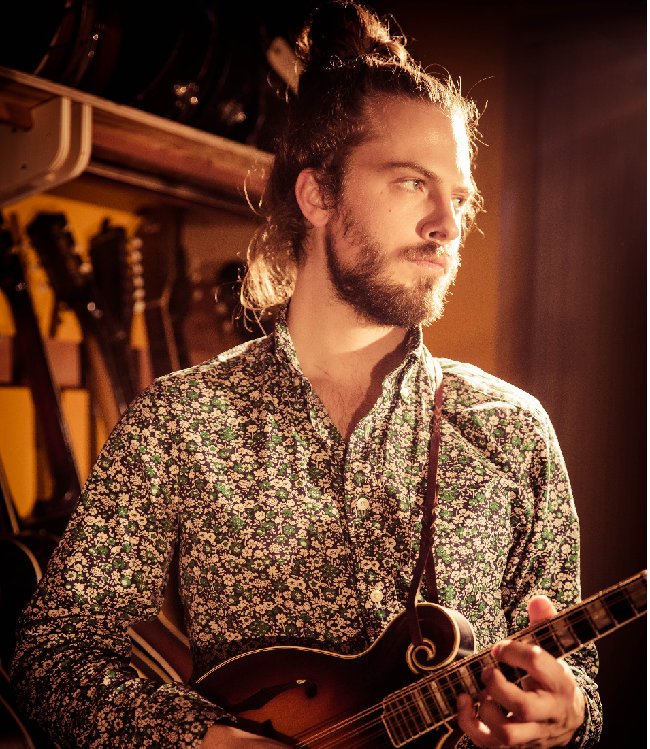 Hult Center: Who was your biggest hero when you were learning to play the mandolin?
Jacob: Ronnie McCoy. And he's still one of my very favorite musicians and people. He's always been hugely supportive, and is a mandolin player's mandolin player.
Hult Center: Do you have particular techniques for approaching each song?
Jacob: My instrumental music is fairly technical, so I'm always working on it. On average, I'd say there's at least one thing I'm particularly bad at in each piece, so I focus on improving that…
Hult Center: Is there any advice you'd give any aspiring mandolinist?
Jacob: Practice as much as possible, meet as many great musicians as possible, be as easy to work with as possible.
Hult Center: Are there any musicians you know that you wish had more recognition?
Jacob: Yeah. There's an incredible piano player in Portland, Randy Porter. He's been a big influence on me. He's fairly well known, but I think he should be much more famous. Jake Stargel is an amazing guitar player in Nashville, who should also be more on people's radar. Stash Wyslouch, who sometimes plays in my band, is a bit of an unsung hero. Guitar nerds know who he is, but he should be a superstar. Then there're lots of young musicians that should be more well known, and I'm sure will be soon. Some that come to mind: G Rockwell (who's playing with me in Eugene), Ethan Setiawan and Teo Quale.
Hult Center: Are there any upcoming events that your fans can be looking forward to for the coming months?
Jacob: Honestly, I look forward to all our gigs, so check out my website to see where we'll be! I'm really excited for the show in Eugene! It's always fun to play in my home state.
Hult Center: Can you share any interesting memorable stories from your time with Joy Kills Sorrow and Yonder Mountain String Band?
Jacob: There are truly too many to recount! With Joy Kills Sorrow, some of my favorite memories are of our first Europe tour. Everything was so exciting! And with YMSB, everything was also really exciting for me, but playing Red Rocks multiple times was a true honor and I'll remember that forever. I'm really grateful for the time I spent in both bands.